To the Jacobite Studies Trust Website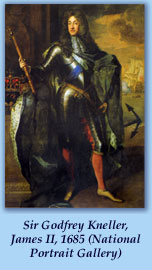 In response to a growing interest in Jacobitism, especially since the 1970s, the Jacobite Studies Trust was formed in 2003 and became a registered charity in 2004. Distinguished scholars agreed to serve as Trustees and as members of the International Committee who help to direct its academic programme.
The Objects of the Trust are to promote the study and understanding of Jacobite history, ideologies, arts and music from 1688 to 1807, as well as the debate between Whig and Tory/Jacobite protagonists.
The Jacobite Studies Trust will organise and publish the proceedings of conferences and award bursaries to young scholars. It plans to found teaching posts tenable at universities.
Huge numbers of Jacobites went into exile to Europe, the USA, Canada and the West Indies and greatly contributed to the life of the host countries. This is virtually virgin territory and a systematic survey of these exiles is planned.
The Jacobite Studies Trust is registered for Gift Aid and UK taxpayers can make their donations go further by completing the Gift Aid Declaration form here to allow the Charity to reclaim the tax.