Activities of The Jacobite Studies Trust
Conference on Jacobite Studies
The 4th international conference on Jacobite studies, National University of Ireland Maynooth (Maynooth University), Ireland, 30 June – 1 July 2017.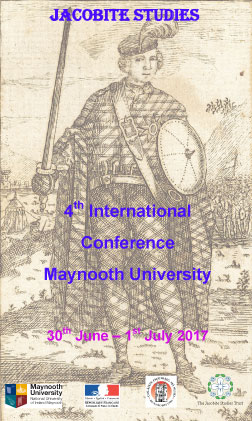 Download the Conference Programme.
Bursaries
The Trust is offering a limited number of bursaries of €200 to PhD students wishing to attend this conference to cover accommodation and travel expenses. Applicants will need to provide a short statement of their PhD research and how attending the conference will be of benefit to them, as well as a letter of support from their academic institution. Contact the Trust's Secretary, Dr Andrew Barclay by or, by post, to:
Dr Andrew Barclay,
c/o History of Parliament Trust,
18 Bloomsbury Square,
London WC1A 2NS,
United Kingdom.
'The Jacobite presence'
Over the last 30 years, the study of the Jacobites and Jacobitism has expanded from the traditional areas of military and political history to cover areas such as industry, finance, migration history, the history of ideas and ideology. This conference aims to maintain this momentum and hopefully to open new areas of study.
Proposals in the following areas will be particularly welcome: industry and the economy; the Jacobite diaspora in Iberia and in the Americas; religious and educational institutions; gender and women's history; music, song, literature and art. Innovative papers in the more 'traditional' areas of Jacobite studies will also be welcome.
Proposals of 250-300 words for papers of 25-30 minutes length on these and other aspects of Jacobite history 1685-1800, and a short biographical note should be submitted to jacobitesmaynooth@gmail.com no later than the 29th March 2017. Students currently enrolled for doctoral studies are welcome to present on their research and can apply for support to the Jacobite Trust. Proposals in the following languages will be accepted: English, French, Irish. These will then be reviewed by an expert committee.
Note that a small number of rooms on the historic south campus of Maynooth are still available. Those wishing to book a room of this type are advised to contact the above email address at an early stage for further details.
Appel à communication pour le quatrième colloque international d'études sur les Jacobites à Université Nationale d'Irlande Maynooth (Maynooth University), Irlande, 30 juin – 1er juillet 2017.
'La présence Jacobite'
Depuis une trentaine d'années et grâce á l'implication d'un réseau international de chercheurs, le sujet de l'histoire des Jacobites, fidèles du roi déchu Jacques II et ses descendants, a été renouvelé. Des recherches ont mis en lumière l'apport jacobite non seulement dans le monde militaire mais aussi dans les domaines de l'industrie et l'économie, l'histoire des idées et l'idéologie politique ainsi que leur intérét pour l'histoire des migrations.
Ainsi, les propositions pouvant élargir ce champ d'études seront privilégiées, notamment celles qui portent sur l'histoire économique et industrielle, la diaspora jacobite dans la péninsule ibérique et les Amériques, les institutions religieuses et l'enseignement, l'histoire des femmes jacobites, et les arts – la musique, les chansons, la littérature et l'art. Des regards neufs sur les domaines 'traditionnels' des études jacobites seront également bienvenus.
Les propositions (de 250-300 mots maximum) pour des communications de 25-30 minutes sur ces aspects ou sur d'autres sujets concernant les Jacobites (ainsi qu'une courte note biographique) doivent être envoyées à jacobitesmaynooth@gmail.com avant le 29 mars 2017. Les interventions pourront avoir lieu en français, en anglais ou en irlandais. Les doctorants et jeunes chercheurs seront les bienvenus pour présenter des recherches en cours. Ils/Elles peuvent faire une demande de soutien financier auprès du Jacobite Studies Trust. Toutes les propositions seront soumises à un comité scientifique.
A noter qu'un petit nombre de chambres sur le campus ancien de l'université sont encore disponibles mais les personnes désireuses d'en réserver sont invitées à le faire rapidement en contactant l'adresse email ci-dessus.
Gairm ar pháipéir don 4ú comhdháil idirnáisiúnta ar na Séamasaigh/Seacaibítigh, Ollscoil na hÉireann Maigh Nuat, 30ú Meitheamh-1ú Iúil 2017.
'Rian na Séamasach'
Le tríocha éigin bliain anuas agus de bhíthin an tsaothair atá déanta ag gréasán idirnáisiúnta de thaighdeoirí, tá léargas úr curtha ar fáil ar chinniúint na ríthe Stiobhartacha agus a lucht leanúna i réimsí ar nós na tráchtála, na tionsclaíochta agus na fiontraíochta, stair an mhachnaimh agus na heacnamaíochta, de bhreis ar na téamaí traidisiúnta ar nós cúrsaí airm, polaitíochta agus eaglaise.
Féilteofar roimh thairiscintí ar phéipéir a leathnós an réimse léinn seo, go héirithe sa stair eacnamaíoch, deoraíocht na Séamasach i leithinis na hIbéire agus sa Domhan Úr, institiúidí oideachais, stair na mban agus na healaíona. Féilteofar roimh phéipéir nuélachta sna réimsí a bhfuil go leor oibre déanta iontu cheana.
Seoltar tairiscintí ar uasmhéid 250 focal do pháipéir 30 nóiméad ar a mhéid ar ghné den ábhar seo, maraon le nóta gairid beatháisnéise, chuig jacobitesmaynooth@gmail.com roimh an 29ú Márta 2017. Déanfaidh coiste saineolaithe measúnacht ar thairiscintí.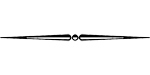 Please visit The Library for documents made available by the Jacobite Studies Trust as part of our ongoing activities.